So this is ostensibly a blog about music, but this month I am going to deviate into my other passion – eating.  Man, it is sad that as you get older your love for food seems to increase at the same rate as your metabolism sloooowwws down thus allowing your once young trim body to become misshapen and lumpy in all the wrong places.  Hey, I have always liked to eat, however as you get older you know your taste buds better and (hopefully) can afford to eat better goodies thus appreciating it more.  It is also interesting that over time your loves/hates when it comes to certain foods can actually change pretty dramatically.   As  a kid I loved tuna fish salad sandwiches, for instance, but as an adult, fish and mayo are two items I dislike intensely while gravitating toward broccoli that was inedible to the younger me – go figure.  As a baby boomer, it is interesting to see how eating out of the house has evolved from something we only did on special occasions as a kid to a weekly event as an adult (we dine out at least every Saturday; weather permitting).  I thought I would fill this month's posting with fave restaurants both past and present (that I no doubt knocked over at least one drink on the floor some time thus embarrassing myself and all involved).   My hope is that this will inspire readers to write in with their best places to eat past or present as well.  I think the first place I ever remember eating out was when mom would take me to the Horn & Hardart when we went to visit my grandparents in Philadelphia back in the '50s.  That was a real adventure – we would ride the trolley cars up from their row house on South 55th St. and when we got there you selected what you wanted by looking through small glass windows.  If you wanted the chicken salad sandwich for instance, you would put your token in the slot next to that window and pull out your plate of food.  Man that was super (supper?) high tech for that era.
Having grown up mostly in Broomfield, Colorado with a distinctly working or middle class outlook on food, you will not see any expensive restaurants listed.  My Dentist buddy Ed Hansford and I have discussed over the years how we frankly don't feel very comfortable spending a hundred bucks for a meal that usually doesn't satisfy us as much as the old Country Buffet or that third plate of Chinese noodles and egg rolls at the Great Wall Super Buffet out on South Wadsworth in Lakewood for a fifth of that price.  Definitely working class children.
My assistant Meagan bought me a fun book a few years ago called Lost Restaurants Of Denver (American Palate) by Robert + Kristen Autobee and if you are intrigued by that subject of old Denver area places to eat I would recommend reading it.
As a boy, we mostly ate out at a restaurant with my grandparents in Fort Collins (Hansen's Cafe or Luby's) or once a year you could pick a place to take a friend on you birthday.  My dad, however, always loved the roast beef and live piano entertainment at Furr's Cafeteria.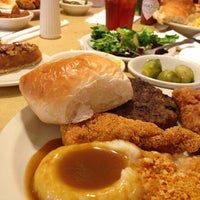 We went to the Furr's in Northglenn often as a family.  The crispy fried chicken and the rich creamy slices of pie were a personal favorite.  Picture standing in a long line to grab a tray plus a roll of tableware inside a napkin then sliding it down a tubular metal shelf.  As you went you pointed out what you wanted to have placed over the sneezeguard in front of you by the no nonsense women wielding serving spoons looking like they had just gotten off the boat from the old country in their sack dresses and hairnets.  The early part of the line was all cottage cheese, salad and jello, but as you moved along it got more savory and desirable.  A buttery roll to dip in the brown gravy, corn swimming out their nutrients and any vestiges of flavor in vast pans and finally chopped steak (hamburger from a better neighborhood) and other assorted meat products.  At last rows of overly sweet desserts beckoned which ended the food but lead to a stern cashier that tallied the damages (you paid by the item, bunky).  Dad shelled out then you would set off with your 20 pound tray in search of the perfect table away from screaming infants but near the piano.  If you were still hungry, sorry but no going back was allowed without paying more.  Then a miracle happened – after years of austerity, the corporate gods of Furr's decided that you could get free seconds at least once – another chicken breast with an inch of golden brown sodium laden crust.  Man that was eating 1960's style.
  The original inspiration for this post was my wife Aimee and I talking about how much we LOVED the egg rolls and chicken chow mein at the old Lotus Room Chinese restaurant that was for so many years our family's go-to place in the VFW post at Speer Blvd. and Ninth in Denver.  There was never a family birthday that wasn't celebrated here in the rather noisy dining room.  People attuned to the fancy woodwork and murals of modern Asian restaurants with pages of exotic dishes would no doubt walk out on the linoleum and basic American-Chinese fare at the Lotus Room, but it tasted for all the world like heaven on a plate to a procession of boomer kids and their parents.  I am always taken with how many people my age that grew up here all have the same memory of eating at the Lotus Room.   I think it would be fun to go back and see how many people I would know today sitting around me that were just kids at the time who I didn't know then – my buddy Ed ate here with his family for instance.  As you entered, the wall behind the cash register had pictures of Channel 9 news anchors as decoration since it was just up the road.  An ancient Asian lady (later her granddaughter) was always seated at a table shelling pea pods as you were seated.  You hoped to get George the waiter as he amazed you with his memory as he forgot nothing yet wrote nothing down as you ordered.  People have asked if the food would really taste as good to us today now that we have tried so many more Asian dishes – yes, the food was great and I can still taste it in my mind.
   Volcano Asian    
  Spice China
It seems that today if we want good Chinese, we either go to Volcano Asian Cuisine (in a hard-to-spot strip mall a block or two east of I-25 off of Arapahoe Rd. on the south side) or Spice China if I am up near Louisville (north of Hwy 36 on McCaslin Blvd).  I have to say that Spice China has some outstanding won ton soup, but nobody has the meaty egg rolls and such of the old Lotus Room.
On rare occasions, dad would decide to get a pizza.  In today's cheap-pizza franchises on every corner world it probably comes as a shock that in the '60s we would have to drive from Broomfield to the Pizza Oven just west of Hwy. 36 on Baseline to get what was a rarity back then.  Dad would have never paid the fifteen cents to take the toll road (a dime to Denver I think – or maybe the opposite charges).  As a result we zigged and zagged back roads the minute the order was placed arriving just in time to pick up the finished half sausage and half Canadian bacon cheesy sauce-covered wheel.
  What a big deal it was when they opened a Shakeys Pizza across Hwy. 287 on Midway when I was at  Broomfield High School.  You had pizza within minutes of the house, banjo entertainment in old-timey stripes and a place to take a date.  Indeed the young me took Kristi Kuehn here on a triple date with friends – my first real one.  The match didn't work out, but the pizza was tasty.  Sadly these passed away as a relic of an era when people ate pizza in a restaurant and not at home as take-out for sporting events.  When my wife and I were first married and had zero money, we decided that our entertainment would be to try out a different pizza joint in the Denver area as we could afford to do it.  We grabbed the yellow pages and worked our way through all the classics like Edgewater, Bonnie Brae, Beau-Jo's etc.  We settled on Grande Giovanni at 6th and St. Paul in Denver as the best.  Run by John Silchia in the late '70s, they had the tastiest sauce I have ever had on a pie and to this day my wife and I moan about the loss of this savory food when the owner closed it to get into politics.  I don't like pizza currently, but would make an exception to eat this pie if it were available again.
Since dad didn't care for the wide noodle pasta of most Italian places (he only liked angel hair), we never went to those sorts of places.  He did, however, love the Three Coins at 525 Main in Louisville – not for their food, but for their music.  My dad Ted was a wonderfully talented organist who played in church from the time he was a teenager till late in his life.  For that reason he sought out restaurants that had an organist.  Dick Hull and later Ray Young played the Wurlitzer organ here from 1963 till 1975 (the organ is currently owned by Colo. State University).
 They were across the street from the Blue Parrot which sadly closed in 2017 after 98 years in business.  Luckily you can still get their tasty spaghetti sauce in the grocery store and eat it at home (I buy it at Costco as it's cheaper).
 To go to a movie as a kid, you either had to go to Denver (mostly 16th St.) or the drive-in.  When they opened the huge movie theater just north of the old Northglenn shopping center where I worked, it became THE place to take dates or see campers with trout decals on the side in the parking lot during Grizzly Adams showings.  Since closing, the building has seen new life as the cut-above all-you-can-eat Italian buffet Cinzetti's.  The place is massive and filled with various enticing cooking stations turning out pizza, red sauce creations, yummy desserts, etc.  Heck, it's a 40 minute drive from our house and typing this makes me think we are going there tonight.
 One of our family fave places to eat is Mama Louise Italian in Centennial at the corner of Orchard and Parker Rds.   I'm always torn between the Chicken Franchaise (very lemony) or the classic spaghetti with meatballs, but they both come with salad, soup and tasty garlic knots.  The service here might be the best of any place we go to and that is a HUGE deal to me (I get pretty annoyed  when nobody even bothers to take your order and you have been sitting for 20 minutes at a restaurant).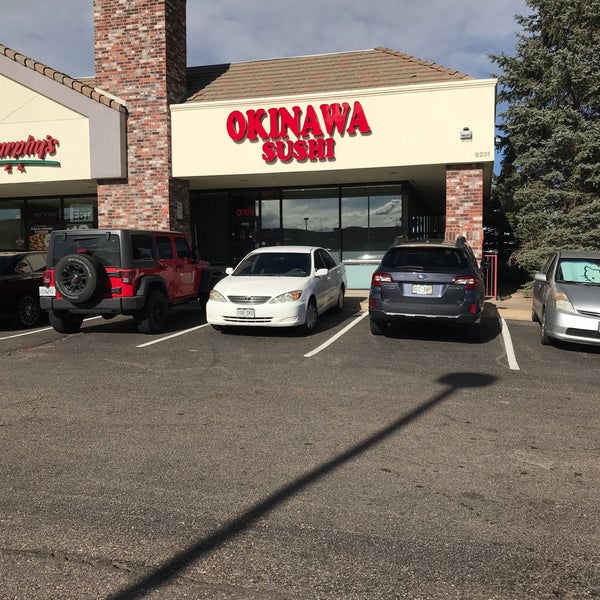 In this era when every 20-something eats sushi and wields chop sticks like somebody from Osaka, folks would likely find it hard to believe that there was a time that Japanese fare was pretty darn exotic and rare.  Heck, the connotation of 'made-in-Japan' was cheap and cheesy – not the high quality associated with that label today.  When we were dating in 1977, my wife-to-be introduced me to a place on the east side of Lincoln at 930 called Fuji-en.  While I still think John Wayne would not have used chop sticks (so I stick to a fork), I perked up to the joys of sukiyaki, tempura and chicken teriyaki pretty quickly – no raw fish, however.  Aimee recalls Fuji-en as having light non-greasy tempura.  When the batter hit the hot oil it would seemingly explode leaving arty brown tasty tendrils attached to the food (like snow flakes – no two look alike) that you dipped into a wonderful sauce.  If any cuisine is associated with an arty presentation, it is Japanese (though it isn't cheap).  For years we ate at the Samurai which was hidden away back in the corner of a small strip center at Arapahoe and Dayton.  When they closed a few years back we were cast adrift to futilely try many spots (and there are way too many of these places) till locating Okinawa Sushi in a Safeway center on Yosemite and Lincoln in Lone Tree.  It's a small utilitarian spot that turns out fantastic food if you can get a table.  If we are up north the only place to get great Japanese is just north of I-70 at Wadsworth in the same center as Sam's Club – Namikos.  Outstanding food.
 When my wife and I were younger and needed a special occasion meal it seemed that we would go with my family to the southern outskirts of Denver to a Japanese steakhouse that had hibachi tables, clacking wooden shakers and clanging spatulas called Gasho.  It had a wonderful outdoor garden (my dad was a landscaper on the side and loved it doing a Japanese theme for the old health center building in Broomfield when he did their garden) and a unique look.  After you made that LONG drive south of Denver to what is now the Tech Center, you turned east on Belleview and then left.  Today that property is way too valuable for something so quaint plus it seems that all the Japanese steakhouses have lost their vitality.
  My old tennis playing buddy Chuck Davis turned me on to Vietnamese food – he's gone now, but (if he can see this somehow) thanks Chuck.  When we reconnected as young Dentists, he and Marsha took my wife and I to a totally hidden non-descript place on Broadway a bit north of Arapahoe called the Vietnam Inn.  Wow, have I been hooked ever since.  Sort of an amalgam of the best of Chinese and Japanese styles, it has flavors all it's own due to the French influence.  We became addicts of the tasty delights that are cha gio rau song – egg rolls you wrap in a lettuce leaf with various other goodies (rice noodles, sprouts, mint, etc.) and dip in the most disgusting smelling (but great tasting) sauce you have ever had – and don't ask how the sauce is made as you won't ever eat it again.  You could have stopped there, but they had so many other great tasting dishes – and all different.  We were just today lamenting that we will likely never again find the beef and fried potato dish they used to have (Bo Khoai Tay- sp?) since we have never found it on any menu since they closed.  The best Vietnamese place we have found of late is Kim Ba which is tucked away in the Pacific Ocean Marketplace on E. Mississippi out in Aurora.  We always have to find several people to go with us as they have so many dishes that we like, we can't NOT get one of them (mi xao don, ga ngu vi huong, thit heo xao bau hoa lan, etc.).
When Chuck Davis and I were in college up at CU, we became addicts to the chili rellenos on Walnut in Boulder at Ticos (if we could afford them).  The non-traditional crispy egg roll skin fried version of the chili relleno is just about the only way that I will eat cheese, not being a fan of sour dairy products.   When they closed and I moved on in life, I totally forgot about them till we found out that Piccolo Italian/Mexican Restaurant had those old Ticos goodies on their menu.  When I was in Dental school, it seemed like just about every weekend Chuck and I would go toss around a football in a lighted field on Evans near DU then go a bit west and across the street and nosh on the great food at Piccolo's.  They always have brought out a basket of taco chips with salsa and rolls (I will not go to a place that charges for taco chips – put it in the meal cost!) so we loaded up on several baskets of those before having the combo plate with 2 chili rellenos plus a beef taco with rice and beans.  After that, it was on to the sonitas with honey for dessert.  Man could we eat back in the '70s.  I got my mom and dad hooked on their food right away and when I got married it wasn't a long stretch to take Aimee here – only she really doesn't like Mexican food.  Well, that is the joy of this place as they have excellent Italian food as well so she gets the linguine with clam sauce plus a salad with no garbanzo beans and everybody's happy.  Then when we moved south of Denver, we found a location of Piccolo on University and Dry Creek – till it closed along with the one on Evans (they also once had a location in Arvada).  Luckily the flagship restaurant run by all-around great guy Vince Canino just east of I-25 on Hampden and Monaco in a King Soopers shopping center is still going strong.  It has been our #1 family restaurant ever since save a short period after my dad died when we had a horrible experience with a waiter (amazing how a bad waitperson can make you forget what you like about a place).  Thank heavens for Mike Shearrer who has been a good friend and waiter for so many years there – when he leaves it will be a sad day.  With so many restaurants not even lasting a year, it is so comforting to still have someone serving food we love over four decades after we found it (PLEASE don't get old and close it, Vince!).
This leaves out the Old Heidelberg up in Golden where I took my wife on our first date, the 94th Aero Squadron where one could sit at old Stapleton and watch the planes take off while eating a steak, the Denver Drumstick and later the Wishbone for fried chicken, the Golden Ox where Art Wiener would show us his 'pride & joy' then serve an outstanding piece of beef on Colfax, the White Fence Farm for family enjoyment, Baby Doe's Matchless Mine just off of I-25 on 23rd, the Appletree Shanty, the China Palace in Fort Collins (on College – mom made the tablecloths for that place for owner Amy), Casa Bonita (?!) – on and on.  Till later, good eatin' folks.