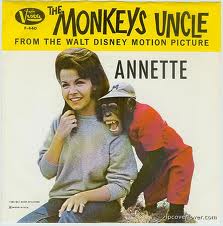 I collect 45 rpm records as does a good friend of mine Ted Scott and we often have music playing sessions with the vinyl we have found.  Some of the best records we have latched on to over the years either never charted in the U.S. Hot 100 or barely managed to dent the charts which is often confusing (and vice versa – there are some pretty awful records that did chart).  Ted worked as a disc jockey and can attest to the fact that back in the day there were simply too many records coming across a program director's desk to give each one a fair shake.  Many factors played into getting a record on the air.  A nationally successful act or a known label had a leg up over an unknown though often local records could chart quite high while never making any impact in the rest of the country (the KIMN charts here in Denver had many '60s Astronauts records at #1 as an example).  Another problem was simply bad timing – a great rock record during the height of disco (or in the current hip-hop era) didn't stand much of a chance chart-wise for instance which is why so many rockers have tried country.  In the early days of rock and roll, especially, there also was a now illegal practice called payola where deals were made between dishonest record companies/pluggers and radio stations/programmers to play a record in exchange for money/drugs/sex/you-name-it.
I've wanted to pay tribute to many of those sadly forgotten records over the years and am now getting around to the first installment of it.  As an Anglophile, many of my faves over the years made a big impact in the U.K. but not here in America (Slade, Shakin' Stevens, the Move, etc.).  I don't intend to list many of those records as at least they were hits somewhere if not here (the Shadows, Marty Wilde, Cliff Richard all come to mind).  I further admit that I could fill one entire post with nothing but great Colorado records that never broke out nationally, but I am going to defer and ask you to go back to my September 2015 entry if you wish to read about bands like the Boenzee Cryque or the Rainy Daze.
There is no attempt to place these songs in any order or even keep them to any one era so scroll through and understand that I am a big fan of guitar-based pop music and my credo is every song is better with handclapping and/or lotsa percussive (cowbell, anyone?).
1.Thomas & Richard Frost – She's Got Love
This 45 on the Imperial label did manage to crawl to a peak placement of #83 in late 1969.  Why it didn't do better is a bit of a head scratcher except perhaps it needed to come out a year or two earlier stylistically.  The California brothers' real last name was Martin and they had previously been in the group Powder.  They recorded the LP Visualize which sadly wasn't released back in the day as it fell into the cracks of Imperial being sold to United Artists.  The tunes did finally see the light of laser with a great now out of print CD.  Their 1972 LP on Uni didn't have the same energy as these earlier pop/rock sides, by the way.
2.The Searchers – Hearts In Her Eyes
Boy was it ever a pleasant surprise when this excellent British Invasion band returned to release two truly outstanding rock and roll albums on the Sire label in 1979 and 1981 (if you love 12-string guitar jangly-pop records you need to pick them up on CD).  The only change from the '60s band was a new drummer, otherwise you still had Frank Allen (bass), John McNally (guitar) and lead-singer/guitarist Mike Pender (who I was lucky enough to see in concert with my pal Dan Campbell in D.C. a few years back). This was a cover of a song by the group the Records that had the same feel as early Searchers hit "Needles & Pins".
3.The Monkey's Uncle – Annette (with the Beach Boys)
By 1965 it had been four years since Annette Funicello had placed any record in the charts while the Beach Boys were red-hot so combining them on the theme from a popular Disney movie seemed like a way to get Annette back into the charts.  It didn't happen and perhaps that was due to the innocuous lyrics (all written by long-time Disney writers the Sherman brothers), but it also could have been that during the Beatles/folk-rock era Annette's name on a record label was chart death.  Today, the bigger act would have been plugged instead so the credits would have likely read The Beach Boys ft. Annette which might have generated more interest.  Either way, I like this tune from Annette's and Tommy Kirk's last Disney movie.
4.Ford Eaglin – Travelin' Mood
James "Wee Willie" Wayne originally wrote and recorded "Travelin' Mood" for Imperial in 1955 after which it became an R&B standard.  Blind guitarist/singer Fird Eaglin, Jr. recorded his version in 1961 for the same label under the name Ford though he would revisit the song with a heavier blues feel years later as Snooks Eaglin.  This arrangement eliminated Wayne's whistling and makes it more of a New Orleans piano shuffle in the realm of Lee Dorsey's "Ya Ya" from around the same time.
5.Billy Lee Riley – Red Hot
This was a 1957 rockabilly raver covering a rockin' blues original from two years earlier by Billy "The Kid" Emerson – both on Sun records.  Perhaps Riley's delivery on this (and the equally great "Flying Saucers Rock & Roll") was too raw for radio, but that doesn't excuse neither record from at least sniffing the lower rungs of the Hot 100.  Riley always blamed Sun owner Sam Phillips for neglecting to promote any record not by his primary artists (first Elvis then later Carl Perkins, Johnny Cash and at the time of "Red Hot" Jerry Lee Lewis).  Riley found more success as a session player then dropped out of music for construction till he was rediscovered and had some sporadic minor success till his death in 2009.  In 1977, Robert Gordon with Link Wray took a nearly identical version of "Red Hot" to the lower rungs of the chart (plus also recording "Flying Saucers Rock & Roll" to equal rockin' goodness).
6.Clairette Clementino – He Don't Want Your Love Anymore
Would this record have been a big charter if it had been recorded by the nearly identical sounding Lesley Gore?  I think it would have charted as it was a catchy melody over an excellent arrangement by Stu Phillips (The Hollyridge Strings).  For some reason this and Clairette's other eight 45s never made any headway.  Clementino was a California teen who perhaps would have been better served changing her name to a less unwieldy one (Clair Tino?).  She did some radio jingle work in Nashville after that then quit music to raise a family back in Marin County.  I think pal Turntable Ted Scott was the first one to play this for me so thanks!
7.Bobby Fuller Four – Let Her Dance
Oh my, what a brilliant but tragic figure was Bobby Fuller.  In 1965 this record came out a bit before Fuller finally found success with "I Fought The Law" and might have had too quirky a rhythm for hitsville.   Fuller either committed suicide or was murdered – we will never know.  His records were pure pop confections full of jangling guitars and blasting percussion.  The late power popster Phil Seymour did a fantastic if more polished cover in 1981 that was equally star-crossed chartwise and could have been in this list instead.  I decided to go with the original as the guy who first wrote and conceived of the song deserves the nod.
8.Caravan – Love To Love You (And Tonight Pigs Will Fly)
Richard Coughlan, Pye Hastings, Richard Sinclair and Dave Sinclair were collectively the Canterbury, England progressive band Caravan.  Their 1971 album In The Land Of The Grey And Pink was always my favorite of their albums and featured this uncharacteristic pop song written by Hastings.  This was the era when a cool album cover could attract me to buy a record and this one didn't disappoint.  Had this single come out in 1968 I think it would have fared better, but by 1971 the charts were rife with singer/songwriters like James Taylor, Carole King and their ilk.
9.The Astronauts – Main Street
I know I promised not to fill this list with Colorado artists, but that doesn't mean I can't slip in one or two along the way.  By their 11th single from their final RCA Victor LP (Travelin' Men) you know these guys were looking for any way to get a hit outside of the Rocky Mountains.  This record didn't do it (however it did place at #1 here in Denver), but deserved to. I was as good a Gary Lewis & The Playboys record that was not actually by that band.  Producers Snuff Garrett and Leon Russell had worked wonders creating a string of hits for Lewis and at the height of their run in 1966 added their touch to this fine song by Mike Gordon and Jimmy Griffin (later of Bread).  Rich Fifield delivered a sincere lead vocal over some excellent harmonies and a Playboys-like production.  It didn't happen and the band broke up after one more fine single as Sunshineward.  Drummer Jim Gallagher still tells some fun stories about touring Japan while we nosh on Sink Burgers in Boulder plus Jon Storm Patterson sold me Dental supplies for years till his retirement.
10.The Pierces – Glorious
I enjoy this record so much it gives me goose bumps every time I listen to this piece of gauzy pop perfection from 2011 by the beautiful Pierce sisters (Allison & Catherine).  In a perfect world for the Rock & Roll Dentist this sort of music would be popular, but that it isn't tells me how old and in the way I truly am (it did chart in the U.K. albeit only at #176).  This to me is the best record released in all the 2000s.  It featured on their fourth album (titled You & I) and was originally by James Levy (who played guitar on the Pierces version).  The echo-laden production was by Coldplay bassist Guy Berryman and that band's producer Rik Simpson (known as the Darktones).
11.Hilly Michaels – Calling All Girls
The period between 1979 to 1982 was one of my favorite eras – maybe even better than the '60s for me as I could actually afford to buy the records I heard and loved (back in the '60s it took a lot of baby-sitting money to come up with the 60 cents or so to buy a single).  With the out-of-nowhere success of "My Sharona", record labels where ditching disco discs and pumping out great gobs of grinding guitar-pop that ultimately wouldn't chart.  A look at the hits of 1980 when this single came out shows Michael Jackson, Barbara Streisand and Kenny Rogers – not Hilly Michaels which was a pity as this record rocked with great sound by Cars producer Roy Thomas Baker.
12.The New York Rock Ensemble – Beside You
When assembling this list I had to look at both my singles and album chart books to confirm that nothing by this talented group ever troubled the Hot 100 – amazing and shows a true lack of taste by the American record buyers.  This gorgeous ballad by the late Michael Kamen was from their fourth (and best) album Roll Over – 1971.  For this Columbia records album, guitarist Clif Nivison was joined by a trio of Juilliard students in Kamen, Dorian Rudnystsky and Martin Fulterman – now known as Mark Snow (who composes TV songs like the X-Files Theme).  I had the pleasure of seeing this band with the Denver Symphony in '71 and (as a former oboe player myself) was thrilled to see a rock band where two musicians played the double-reed and one played cello.
13.The Everly Brothers – The Price Of Love
Don and Phil Everly were proof that genetics could breed vocal harmonic greatness.  I have always assumed that this self-penned gritty rocker was a big hit back in 1965 and was shocked to see that while it did do well in the U.K., it never made it in the States.  Very uncharacteristically, country-rock band Poco did a decent cover on their Cowboys & Englishmen LP in 1982.  Next to the brothers, the best version is by Bryan Ferry of Roxy Music.  Perhaps the problem in 1965 was that folk-rock, Motown and British Invasion records dominated.
14.Ian Hunter – Cleveland Rocks
Proof again that 1979 was a cool year for music, former Mott The Hoople man Hunter with the late/great guitarist Mick Ronson put out the fine rock and roll LP You're Never Alone with a Schizophrenic.  The only Hunter single to chart in the U.S. was from that album ("Just Another Night") so it seemed possible that as a follow-up if every person in Cleveland bought the new single, it might have charted – but it didn't.  The song has actually had quite a long life in spite of no chart presence.  It was used for a time as the theme-song to The Drew Carey Show (by the Presidents Of The United States Of America) and has continued to be played at Cleveland sporting events.  It may inspire me one day to travel to see the Rock and Roll Hall of Fame (if I can think of another reason to go to Cleveland).  I actually prefer musically the more driving (and more obscure) U.K. single he did called "England Rocks".
15.The Guitar Ramblers – Surf Beat
When we were youngsters in Broomfield, my pal Dan Campbell had a Capitol records compilation with "Surf Beat" by Dick Dale & His Del-Tones on it – a great record that I remember fondly.  This 1963 more stately cover of that song by the faceless studio band The Guitar Ramblers really doesn't sound like hit material, but I always loved the single anyway – plus I dig instros.  The LP says it was under the direction of Jack Marshall who was a jazz guitarist and composer of cool music for The Munsters and Thunder Road.
16.Eric Andersen – Is It Really Love At All?
Back in 1972 when I was in the thrall of Humble Pie, Foghat, the Faces, etc., I remember hearing this gentle ballad on Denver radio and really liking it not knowing the long folk history of the performer.  I now know that his most famous '60s composition was about civil rights – "Thirsty Boots" (covered by Judy Collins, John Denver, etc.).  This song was from his most successful LP Blue River which fit well with the singer/songwriter era of the early '70s.  Stan Soocher and I saw him in a very intimate concert in a barn-like structure in Elizabeth, CO.
17.Paul Collin's Beat – That's What Life Is All About
Boy was it hard to choose just one song by the most criminally overlooked band from the skinny-tie power-pop era when bands like The Knack and the Romantics kicked leisure-suited disco aside – if briefly.  From 1979 it could have been the cowbell-driven "Workin' Too Hard" or the snotty "Don't Wait Up For Me" from their first album titled The Beat.   I ultimately settled on this more mature song with gorgeous harmony vocals over a driving strummed guitar passage from their second LP released in 1982 (The Kids Are The Same).  My old friend G Brown treated wife Aimee and me to a fantastic Boulder double bill back in '82 with these guys backing The Stray Cats – great stuff (thanks G!).  Paul Collins is still out there touring and recording though with a lot less hair (though I guess I am not one to talk).
18.The Millennium – It's You
There was a loose group called the Millennium that recorded the 1968 album Begin that spawned this sunshine-pop single that also put out music as the Ballroom and Sagittarius.  The exquisite 1967 first Sagittarius album (Present Tense) was producers Curt Boettcher and Gary Usher with studio men like Glen Campbell and also included tracks from their earlier band the Ballroom.  They then recorded the Millennium album with friends like Michael Fennelly, Sandy Salisbury, Joey Stec and Lee Mallory which became the most expensive flop ever for Columbia records up to that point.  Later, Usher would start his own label (Together) and issue another Sagittarius album (The Blue Marble).  Over the years music by these artists have gained a loyal cult following with pop fans.
19.The Delroys – Bermuda Shorts
Coming from 1956, the Delroys called Long Island, NY their home and managed to cut this hot doo-wop rocker the next year for the small Apollo records label.  There were too many small regional labels back in the day who all found it hard to gain distribution outside of their local area.  If they did get distributed wider, you knew that there was not going be a good accounting for sales figures either which inevitably would mean little or not payment to the artist on the record.  One can assume that poor distribution is what kept this ode to short pants from breaking out nationally as it has the sound of a hit otherwise and did manage some success in a few markets.  These black kids, like so many, were a faceless outfit that never saw any money from their records but at least got to live out the rock and roll dream – if only for a short time.
20.Freddie & The Dreamers – A Windmill In Old Amsterdam
For some reason I was bitten by the Freddie bug for a short time back in 1965 and can thank my friend Rick Steele and his thoughtful dad for getting to attend my first rock and roll show at the Auditorium Theater in Denver to see the Dreamers.  While the band declined in national popularity, I continued to buy their records for a bit including this cover of a novelty written by Ted Dicks and Myles Rudge.  Freddie Garrity always had a streak of 'silly' on-stage and this song about a clog-wearing Dutch mouse fed in to that perfectly (and gave him a chance to use his dopey laugh).  Needless to say I played it for daughters Brenna and Hilary as kids since that is the main reason you have kids – to torment them with your music and old jokes.
21.B.J. Thomas & The Triumphs – Never Tell
This song was issued on three different labels and was originally the featured side over "Billy & Sue" which was on the flip.  This is a very catchy pop single (with handclaps on the chorus) first released on the small Bragg record label in 1964 then picked up nationally on Warner Brothers that same year.  The record was not a hit and eventually Thomas made it to Scepter records in 1966 to start a long and successful music career with a cover of the old Hank Williams ballad "I'm So Lonesome I Could Cry".  Hickory records then acquired the rights to the 1964 release and flipped the record to make the more country flavored "Billy & Sue" the top side over the poppier "Never Tell".  Their plan worked as the record hit #34 in 1966 meaning my preferred side never got airplay nationally.  Mark Charron wrote both sides of the single (he died in his early 50s).
22.Baja Marimba Band – Portuguese Washerwoman
Well it is time to own up to a guilty pleasure and admit that back in 1966 when I was buying Beatles and Stones records I also grabbed the LP Watch Out! by the Baja Marimba Band when I heard this song.  It was a cover of the #19 hit from 1956 by pianist Joe "Fingers" Carr.  While the Jewish Julius Wechter's Hispanic image for his band traded on politically incorrect stereotypes, the music was great and mostly played by the same musicians who recorded the Tijuana Brass records and so many others  – the Wrecking Crew.  While the record did chart top 20 on easily listening stations, nationally if only hit #126.
23.Kip And Ken – Trouble With A Woman
Fred Darian and Al DeLory wrote the novelty record "Mr. Custer" (a hit for Larry Verne).  A keyboard player with the Wrecking Crew backing musicians, DeLory later was the arranger/producer behind a string of great Glen Campbell hits in the '60s.  Al DeLory is listed as the arranger on this 1965 record while Fred Darian is the producer.  Joseph Van Winkle and Darian are listed as  composers.  If you go back to the first appearance of this song on vinyl (1963 – The Camptown Singers), you will see that DeLory was the arranger, Darian was the producer, but the composers were listed as Van Winkle and Dobie Gray.  That version doesn't sound awfully different than this slightly more polished and vocally superior take by the unknown Kip and Ken.  Billboard back in 1965 had a capsule review saying it was a Righteous Brothers sounding pulsating rocker.  It wasn't a hit for either act.  I'm struck by how similar one for the singers sounds to the late great Sam McFadin (Flash Cadillac).
24.Traffic – You Can All Join In
This track was from the self-titled second Traffic album that was released in 1968.  Dave Mason had left the band just as their first album was released, but returned in time to contribute some great songs to the next album before quitting once again.  This very catchy pop song from Mason has gentle commentary about issues of the day.  Chris Woods plays a very basic sax that sounds almost like a duck call, but it works over the acoustic guitar strums and lyrical lead guitar breaks.  The word is that this wasn't released as a single in the U.S. as the band didn't want to play up the pop tunes over the direction of the rest of the album.  I would wonder if there wasn't some competition between Steve Winwood and Mason over the direction of the band.
25.Poco – A Good Feeling To Know
Here is one more song with Colorado ties.   That it broke the heart of the man who wrote and sang lead on it (Richie Furay) is frustrating, but it doesn't take away that it was perhaps the peak of his time in Poco.  For my story about the band, you are referred to my extensive blog post of April 2017.  The clip I chose to link to cuts off the intro to the song, but it is the only one that shows a promo of the band doing their tribute to the state that they had recently moved to – Colorado.  Back when I interviewed Furay for my article, he was just emerging again as a performer while trying to fit it in with his commitments as Pastor of Calvary Chapel in Broomfield.  He obviously still had pain over the lack of success on the charts for the song he thought would make him a true star.  That failure ultimately lead him to break away from Poco, but thankfully he has always returned to their music in concert and has often guested with them.  At the time I told him how much a wanna-be and never-was rock musician like me would have given their right arm to have had even a piece of the success he had seen in his time and I sure hope he has come to grips with what a great career it has been.  Chart success or no, in concert the song still gets the crowd up and cheering every time.