Personal taste on anything is so often hard to define or defend – you either like something or you don't.  Even with only three channels to choose from for many years, there are thousands of TV shows that a 65-year-old has been exposed so it becomes tough to remember them all.  When trying to make a list of my all-time favorite TV shows, I found that it is hard to forget how hokey most of the TV from our youth was.  I loved to watch the Monkees and Batman as a kid, for instance, yet watching an episode now is almost embarrassing due to the dopey plots.  The music on the show Where The Action Is had me racing home from school to watch my fave group Paul Revere The Raiders yet now the silly setups seem awfully dated (though the music is still great).  When making a fave list like this, it is always hard not to give more weight to newer things as they are fresher in the mind thus leaving out shows like Columbo or St. Elsewhere might be a mistake, but one I will make anyway (heck, as a tot Romper Room and Captain Kangaroo were my faves).  If my wife were making this list I am sure you would see shows like Supernatural, X-files, The Good Wife and Boston Legal – all good shows, but not in my realm of interest.  I don't find any of the modern comedies funny, yet when compiling this list I was surprised at how many of the shows are comedies – just old ones.  The order may change from day to day and I may be tempted to add LA Law or Andy Griffith on other days, but here is my list.
I decided that a cadre of TV movies over several years does not constitute a TV series so for that reason I have eliminated what would have been #2 on my list – The Jesse Stone Mysteries starring Tom Selleck (2005 – 2015).  That being said, I will recommend these nine (and counting, I hope) thoughtful and well-written stories about a former LA lawman with major failings (alcohol, divorce, self-doubt).  He is trying to rebuild his life in small-town Massachusetts but has no interest in bowing to the local powers.  They are based on a book series by the late Robert Parker and are totally counter to the frenetic pace of most current shows – there are long quiet scenes that feel more powerful than the fastest action.  My favorite character in many ways is the dog he adopts (or that adopts him, actually) that becomes his conscience.  My personal fave episode is the seventh one:  Jesse Stone: Innocents Lost from 2011.
1.Law & Order
Hands down this is an easy choice for me as 20+ years after I originally saw most of these shows, I would still rather watch an old episode of this well-written show than any modern show's new episode (and on most nights you can still watch one on cable).  The original (and the best) series ran from 1990 till 2010 and was created by Dick Wolf (Chicago Fire, Law & Order SVU, etc.).  When most shows lose cast members the quality is often hard to maintain, but this is a rarity that survived changes.  It is often hard to pick who is your favorite assistant DA (Robinette or Kincaid?) or 2nd detective (Logan or Ed Green?) but for me it isn't hard to pick the best lead detective – the late Jerry Orbach playing Lennie Briscoe.  That the show feels real and deals with familiar topics is what allows it not seem dated like a show such as Perry Mason does where you now realize that he would never have been allowed to do the crazy things that he got away with each week.  The Mike Post created "chung chung" noise that goes with scene changes is a distinctive feature you can't forget.  I am also a fan of the third show that Dick Wolf did in that vein, Law & Order Criminal Intent due to the great pairing of Vincent D' Onofrio and Kathryn Erbe as the detectives.
2.SCTV
It appears that only the cool folks knew about this show back in the day (likely because NBC didn't seem to know how to program it) which is sad, but it lives on today thanks to youtube and DVD reissues.  The show was an offshoot from Toronto's Second City comedy troupe and was ostensibly about a small-town Canadian tv station and the weird characters who were on it.  The show ran in some form basically from 1976 till 1984 with '81-'84 the prime US years.  It seems like most every actor on the show went on to much bigger things, but were here allowed free reign to be creative and develop much of what they became.  Martin Short's Ed Grimley and Rick Moranis plus Dave Thomas' dopey Canucks Bob and Doug McKenzie are perhaps the best known of all these characters, but it is hard to pick faves.  The 5 Neat Guys, the Schmenges, Rockin' Mel Slirrup, Tex & Edna Boyle, Count Floyd, Johnny Larue, on and on.  In addition to Short, Thomas and Moranis you had John Candy, Joe Flaherty, Andrea Martin, Eugene Levy and Catherine O'Hara (Harold Ramis, Tony Rosato and Robin Duke were early exits).  Their impersonations were wonderfully silly as well such as Levy as the VERY relaxed Perry Como and Thomas as Walter Cronkite or Bob Hope.  My favorite episode was when the station was hijacked by Russian tv CCCP to air such weirdness as "Hey Giorgy"  and  "Upo-Scrabblenyk".
3.Seinfeld
It is interesting how many shows didn't grab me right away.  The most egregious of these was Barney Miller which I didn't watch at all when it was on, but found I loved in syndication years later.  I, like most of America, didn't immediately latch on to this show either when it premiered in 1989, but by the end of it's nine year run I was a huge fan.   George Costanza (Jason Alexander), Elaine Benes (Julia Louis-Dreyfus), and neighbor Cosmo Kramer (Michael Richards) populated Jerry Seinfeld's world that sprang from his clean stand-up routine (check out his fine Netflix special) plus the mind of Larry David (Curb Your Enthusiasm).  The Bro, Festivus, the Puffy Shirt, etc. where all things in their weirdly mundane life.  Indeed they could build a whole show from simply waiting for a table at a Chinese restaurant.  "Regifting", "shrinkage", "it's gold Jerry it's gold", "they're out there and they're lovin' it", "not that there is anything wrong with that", "I'm out", "no soup for you", "Newman!" – all great moments in the world of Seinfeld.
4.The Bob Newhart Show
From 1972 till 1978, Bob Newhart played the Chicago psychologist Robert Hartley.  Like Jack Benny earlier and Seinfeld later, Newhart was not afraid to surround himself with strong characters and let them get the biggest laughs which made for great comedy while he acted bemused.  Crazy airline employee Howard (Bill Daily), wife Emily (Suzanne Pleshette), receptionist Carol (Marcia Wallace) and Orthodontist Jerry (Peter Bonerz) were the regulars, but it was the side characters that really made the show.  Bob's patients like Mr. Peterson (Jack Fiedler), Michelle Nardo (Renee Lippin), Mrs. Bakerman (Florida Friebus) and the ever sarcastic Elliot Carlin (Jack Riley) were seemingly never cured but that was the fun.  It is hard to decide which of two episodes is my favorite.  I either would choose the one where the doctors had to hire a temp secretary (an old confused lady named Debby who never figured out Bob's name) or the one where Carol calls Bob a fuddyduddy and to prove it she moves a plant on his desk.  Just like my personality it ate at Bob the whole show till he moved it back to where it belonged.  Bob Newhart's comedy is dry and gentle and fits me personally to the point that my dad and I went to see him in concert in Greeley, CO back in the day for a memorable father/son memory.  While there aren't too many shows that feature Dentists like myself, I always have had the problem that for some reason he had Jerry the Orthodontist cleaning teeth which is simply not correct.
5.The Bugs Bunny Show
This show was a staple mostly on Saturday morning for us boomer kids to get up in our pj's and watch cartoons while mom and dad slept (before cable made cartoons ubiquitous).  Starting in 1960, it actually continued till 2000, but it is the '60s ABC and CBS years I remember with Looney Tunes cartoons from directors like Friz Freleng, Tex Avery and Chuck Jones (after 1968 also including Road Runner).  The characters were anarchic but lovable such as Tweety Pie, Foghorn Leghorn and Daffy Duck in addition to Bugs. Voice actors Stan Freberg, June Foray and Bea Benaderet were great, but it was the genius of Mel Blanc that made the show tick.  My wife's fave episode is "Feed The Kitty" with the big bulldog that adopts a cat – mine is "One Froggy Evening" which had the one-time appearance of Michigan J. Frog who bedeviled a poor schmo who saw riches with a talented singing frog only to lose it all when the frog wouldn't perform in front of anyone else.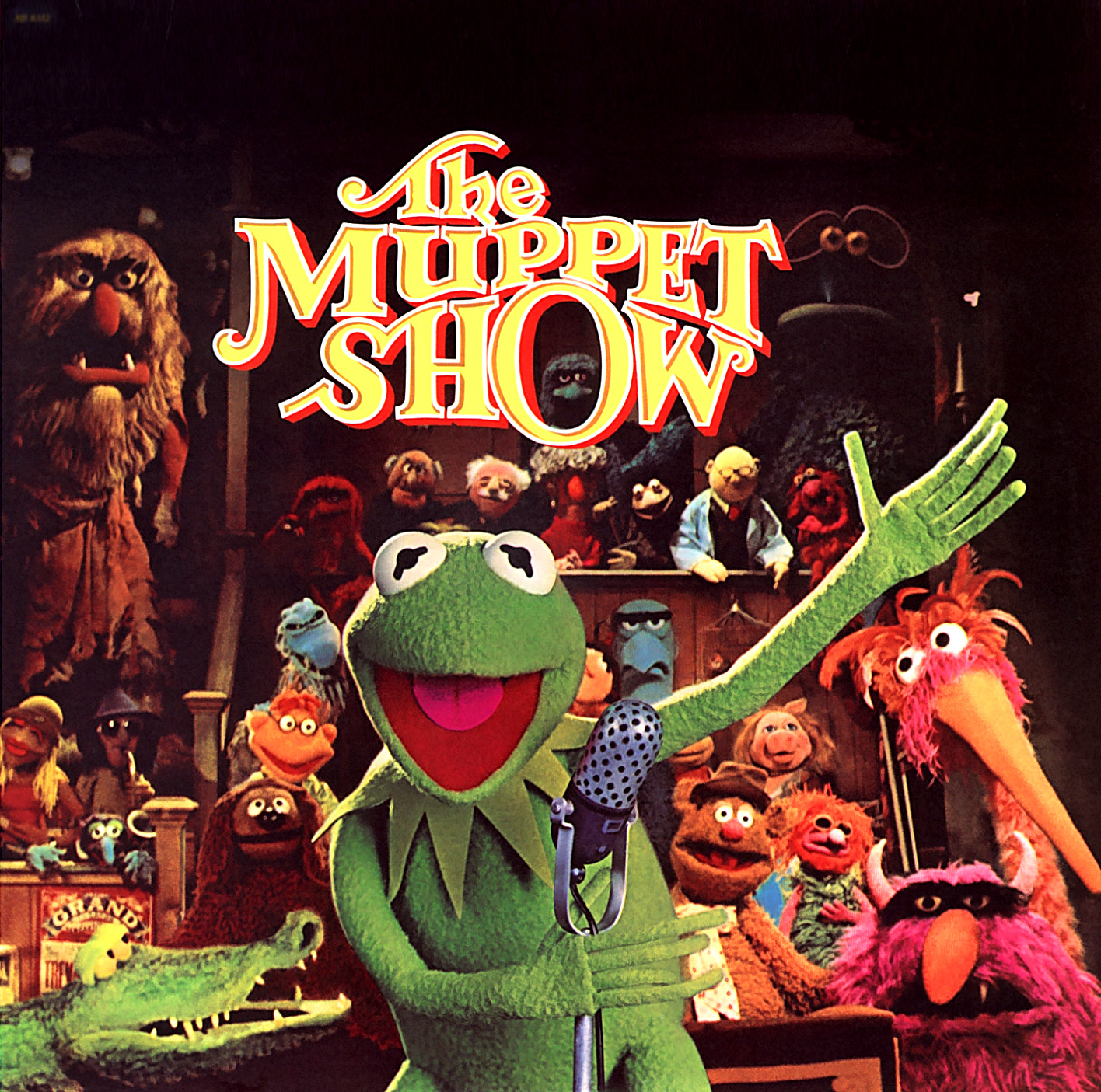 6.The Muppet Show
The late Jim Henson created the puppets for the kid friendly Sesame Street.  With the Muppet show he (and collaborators Frank Oz, Jerry Nelson, Dave Goelz, etc.) sought to keep the kids, but add their parents as fans.  He succeeded in spades with a concept that has outlived him for many years.  It was the Brits who aired the show from 1976 till 1981 even though Henson was American so by all rights this is an import that became popular on US tv.  Kermit the Frog, Miss Piggy, Fozzie Bear, Animal, the Swedish Chef, on and on – all great characters that went from pieces of cloth to personalities we continue to love.
7.Everybody Loves Raymond
Following the lead of Seinfeld, this took a stand-up comedian (Ray Romano) and made him a tv star (thanks to the mind of Phil Rosenthal who created the show).  From 1996 till 2005 we followed the day to day of sports writer Ray Barone and his disfunctional family played by Brad Garrett (his brother), Patricia Heaton (his wife), Peter Boyle (his dad) and the great Doris Roberts (his mom).  I think they were too much like my own family for my wife to enjoy, but I adored Ray who was totally controlled by his parents and wife while his poor brother seemingly always got the leftovers.  I hate it when shows feature smart aleck kids who control their parents so was always grateful that the three kids in the show were minor characters.
8.Saturday Night Live (the first 5 years)
Sporadically funny ever since, the cast of the early Saturday Night Live under the tutelage of Lorne Michaels is the only version I cared about.  That first cast of Dan Aykroyd, John Belushi, Chevy Chase, Jane Curtin, Garrett Morris, Laraine Newman and Gilda Radner were the group I liked and when Chase left after year one to be replaced by Bill Murray who I don't much like, it dropped a notch for me though it was still good.  When Michaels and the rest of the originals left in 1980, I stopped watching completely though there have been great moments since like "pump you up", "more cowbell" and Eddie Murphy's James Brown or Mr. Rogers takes.  Chase's pratfalls, Aykroyd's bass-o-matic, candy-gram, etc. – all funny moments from the early years of envelope-pushing later-'70s sketch comedy.  Belushi and Aykroyd as the Blues Brothers were my faves along with guest host Steve Martin who seemed like a regular.
9.Monty Python's Flying Circus
These crazy Brits came to my American eyes first via the 1974 re-release of their classic sketch movie And Now For Something Completely Different and then via PBS airings of their old tv shows which were recorded originally from 1969 till 1974 when they first disbanded.  I remember seeing the movie in a small art cinema in Larimer Square in Denver and laughing so hard at classic sketches like "dead parrot", "upper class twit of the year" and "the lumberjack song" that I could hardly breathe.  Eric Idle, John Cleese, Michael Palin, Graham Chapman, Terry Jones and Terry Gilliam were reportedly surprised that the British humor translated so well to these shores.
10.Mythbusters
From 2003 till 2016 (I don't count the new awful re-boot), these folks mixed science with ingenuity and entertainment to come up with a very original cable series.  The two main folks, Jamie Hyneman and Adam Savage, were joined by a second team of Kari Byron, Tory Belleci and Grant Imahara in later seasons.  The main premise was the testing of internet sensations, urban legends, common beliefs, tv/movie special effects, etc. to see if they were confirmed, plausible or busted.  As the budget increased, the show often got wilder with the destruction of cars and other expensive things (the use of explosives was pretty common).  These people actually knew what they were doing and were very good at it which added to the entertainment value.
11.MASH
War shows that are comedies tread a fine line.  Amazingly the high-jinks at a German-run allied POW camp during World War II was actually pretty funny (Hogan's Heroes).  While this show took place at a makeshift hospital behind the front-lines during the Korean War, the show really commented about the Vietnam War as well.  Here is another show that managed to survive (and even thrive on) the change of major characters in its successful run of 1972 to 1983.    If I could visit with one other actor besides Tom Hanks, it would have to be Alan Alda who starred as Hawkeye Pierce and seems to be a pretty intelligent and well-spoken actor.  This show made him a star.  Loretta Swit, Larry Linville, Wayne Rogers, McLean Stevenson and Gary Burghoff along with Alda were the featured players at first, but over time Jamie Farr as a cross-dressing soldier named Klinger got more and more screen time (he dressed in women's clothing trying to get sent home but is never worked).  Perhaps the best addition in later years was the great old actor Harry Morgan as Colonel Potter who took the place of Stevenson's Henry Blake.  Another character that gained prominence was Father Mulcahy played by William Christopher.  After Hawkeye, perhaps the most loved character was Radar O'Reilly the company clerk played by Burghoff.  The final episode broke the record for the highest percentage of homes with television sets to watch a television series and received an unheard of 77 share.
12.Longmire
This show had two big things going for it:  beautiful scenery in its New Mexico locales and the prominent use of Native Americans along with stories about them (something you simply don't see anywhere else).  Between A&E and Netflix, this series about a Buffalo, Wyoming Sheriff's Department ran from 2012 till 2017.  Having read all the Craig Johnson Walt Longmire novels, I can say that I prefer the show as it expands on the Native American angle and adds the controversy of an Indian casino on the reservation.  Hearing star Robert Taylor's rough western manner of speaking, it is jolting to catch his thick Aussie accent off-screen.  Lou Diamond Phillips makes a perfect Henry Standing Bear (Walt's best friend) and A Martinez (Jacob Nighthorse) makes an interesting foe for Walt while Graham Greene as Malachi Strand is just plain evil.  I could watch this show with the sound off and still enjoy it due to the Taos and Las Vegas, New Mexico scenery.
13.The Mary Tyler Moore Show
After playing the typical '60s wife Laura Petrie who waited for husband Rob (Dick Van Dyke) to come home from work, this series explored (humorously) the emergence of the single career-woman (Mary Richards) in the '70s.  In its run from 1970 till the classic final episode in 1977, this show received 29 Emmy awards.  It was about a tv news show associate-produced by Mary.  Valerie Harper played Rhoda (her neighbor), Cloris Leachman played her landlady Phyllis, Gavin MacLeod was Murray the writer, Ted Knight was the dopey on-air talent and the great Ed Asner was Mary's boss.  The biggest surprise breakout was Betty White as the happy homemaker Sue Ann Nivens who looks angelic while hungrily pursuing men.  This show really established White as a comic actress of great skill.  The final episode is still seen as one of the best sign-offs ever (after perhaps Newhart where Bob wakes up with Emily from his earlier tv series to relate the crazy dream he had about an inn and a wife who wore lots of sweaters).
14.The Simpsons (first 18 to 20 years)
This is a show that I haven't watched for several years after adoring it for two decades or so (either I outgrew it or the writing got tired ever since their movie in 2007 – who knows).  The fact that the voice cast has generally stayed intact for nearly 30 years is amazing ( Dan Castellaneta, Julie Kavner, Nancy Cartwright, Yeardley Smith, Hank Azaria and Harry Shearer) but since the characters are all drawn it doesn't really matter how much the actors have aged which is a plus.  After three seasons of use as shorts on the Tracey Ullman Show, Matt Groening's creations were given their own Fox network half-hour in 1989.  Homer, Marge, Lisa, Maggie and the irascible Bart have been going strong ever since with ancillary characters like Ned Flanders, Mr. Burns, Krusty, Moe, etc. to add to the craziness (personally I was a Disco Stu and Comic-Book Guy fan – worst episode ever!).  I hope they eventually put out a DVD of all their music-related episodes including my fave about a music camp run by Mick and Keith of the Rolling Stones with counselors like Tom Petty and Elvis Costello.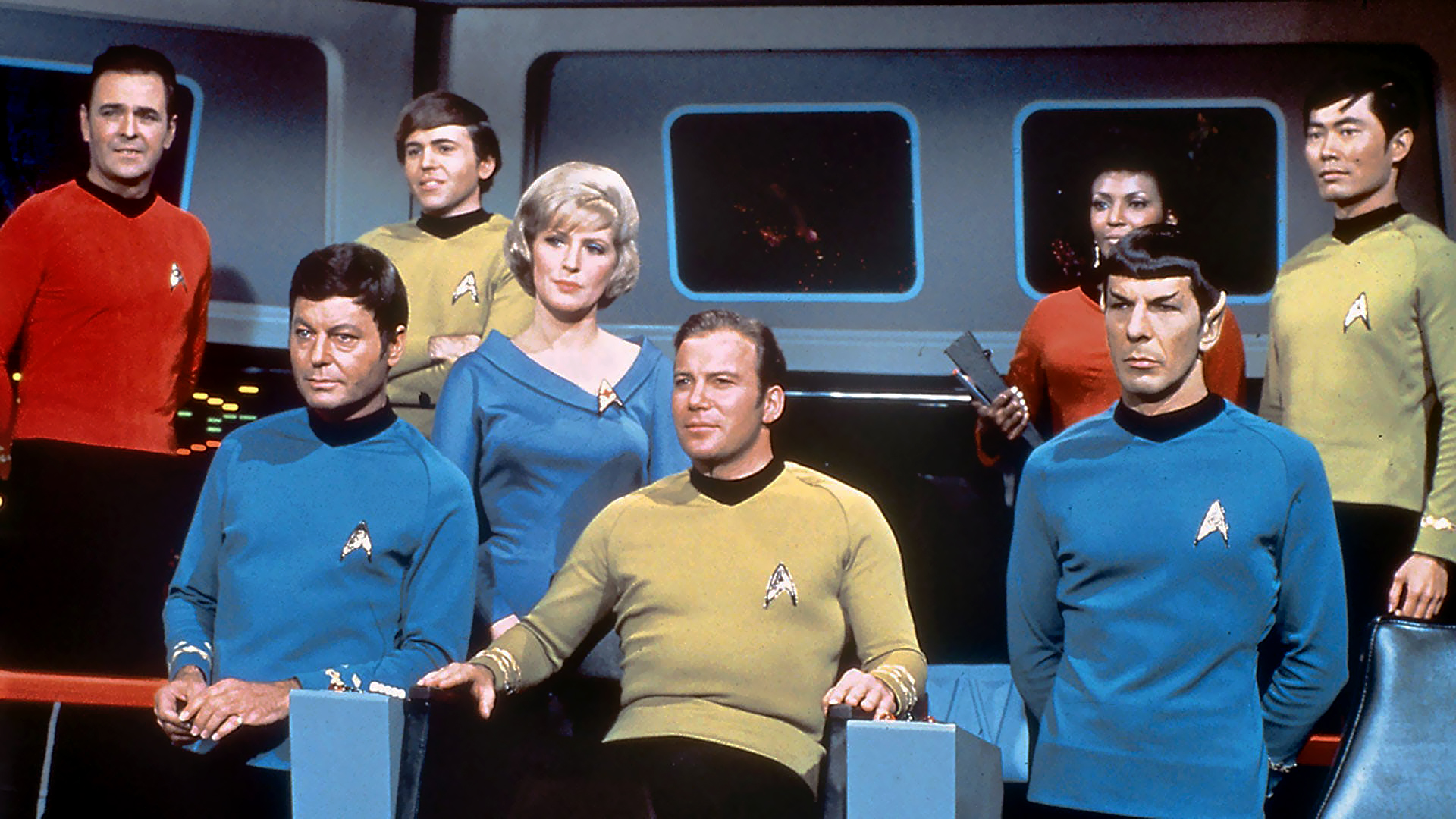 15.Star Trek (original series)
Frankly it is pretty amazing to look at the franchise that has been spawned by a marginally rated three-year tv series that ran starting in 1966.  It was the vision of Gene Roddenberry who visualized the show as a space version of the then popular western Wagon Train.  Showing blacks, Asians, men and women and even aliens working side-by-side as equals in 1966 was pretty ground-breaking stuff (though the women did wear skimpier outfits).  James Doohan, George Takei, Nichelle Nichols, DeForest Kelley, Walter Koenig were the primary cast, but William Shatner as Kirk and Leonard Nimoy as Spock were the stars.  The crew had to explore the cosmos and avoid bad guys like the Klingons and the Romulans while not interfering with the development of other cultures – oh and along the way Kirk got to woo hot aliens and fire phasers and photon torpedoes while Spock was communicating with rock-based creatures logically.  My favorite two episodes are the thought provoking "The City on the Edge of Forever" (about time travel and the possibility of accidentally changing the course of history so the Germans won World War II) and "The Trouble With Tribbles" which was a much more light-hearted exercise about furry creatures.  My wife would have chosen on her list the next Star Trek series that had Patrick Stewart as Picard – Next Generation – a bit more cerebral in its approach to fighting aliens.
16.Home Improvement
This is the only show here that breaks my rule of hating tv with smart aleck kids, but Tim Allen was such a break-out star that it was worth it.  This show ruled network tv of the '90s in it's eight season run (1991 – 1999) and also launched the career of Pamela Anderson (the first Tool Time girl) who left after the second year.  Once again we had a stand-up comedian who had a show built around his character – this time about Tim Taylor an accident prone handyman with a fix-it tv show called Tool Time.  His straight man tv helper was played by Richard Karn (Al) while at home he had an over-the-fence always partly hidden helper played by Earl Hindman (Wilson).  His wife (Patricia Richardson) and three kids (Zachery Ty Bryan, Jonathan Taylor Thomas and Taran Noah Smith) were always bemused by Tim's love of tools and "more power".
17.Walt Disney's Wonderful World Of Color/Wonderful World Of Disney/etc.
Starting in 1954, this show seemingly ran forever on tv every Sunday night and if you didn't have a color set starting in 1961, you had to find a friend who had parents that could afford one.  The show had many different titles but always had, till his death in late 1966, an intro by the kindly looking old gent Walt Disney (he died at 65 which seemed old till now – yikes!).  This show brought high quality productions such as Davy Crockett and Texas John Slaughter along with Mickey Mouse/Donald Duck cartoons and excerpts from Disney movies.  The show felt somehow better than most tv of the time for some reason – but then Disney always stood for excellence.
18.The Ren & Stimpy Show
Boy talk about the polar opposite of the gentle cartoons of Walt Disney, this was anarchic tooning for five seasons starting in 1991.  If I wasn't supposed to let daughters Brenna and Hilary watch Bart Simpson, then certainly this show about unstable chihuahua Ren and Stimpy the dumb cat would have gotten the kids put in a foster home.  We watched anyway and laughed to the happy happy joy joy song, Powdered Toastman and the Muddy Mudskipper show.  Frosted Sod Pops, Log, "no sir I didn't like it" – all iconic moments conceived from the mind of John Kricfalusi.  Nickelodeon fired him from his own show after two years of wrangling over missed deadlines.  The humor remained decidely adult, but it was those first two seasons that were the best.
19.Taxi
While is feels like it ran much more recently, this comedy that spawned so much talent ran from 1978 till 1983 and garnered 18 Emmys.  Danny DeVito, Judd Hirsch, Christopher Lloyd, Andy Kaufman, Tony Danza, Marilu Henner and Carol Kane – a pretty formidable cast (not to mention Rhea Perlman and Louise Lasser in supporting roles and guest star Ruth Gordon).  Manhattan's Sunshine Cab Co. and the odd people who drove and maintained those cabs was the focus of the show.
20.NYPD Blue
To some degree this feels like the progenitor of Law & Order in its frankly adult way of handling the police in New York City.  Co-created by David Milch and Steven Bochco (Hill Street Blues, LA Law), this show revolved around the 15th Precinct detective squad from 1993 till 2005.  David Caruso left after two seasons (CSI: Miami) which gave Andy Sipowicz (played by Dennis Franz) center stage as the focal character.  Network tv had never seen such frank depictions of alcoholism and nudity and probably won't again.  The show won 20 Emmys for its great cast made up of Sharon Lawrence, Gordon Clapp, James McDaniel, Jimmie Smits, Nicholas Turturro and others.
21.Happy Days
Without Henry Winkler's break-out character the Fonz, this show would not have made the list as it was pretty squeaky clean.  After Ron Howard (Opie in The Andy Griffith Show) starred in the coming of age movie American Graffiti, it was logical that someone would make a tv show along those lines.  That someone was the prolific Garry Marshall who decided to portray a very idealized vision of life in the '50s and early '60s.  The Cunningham family (Tom Bosley, Marion Ross and Erin Moran) was supposed to be the focus but when motorcycle riding/leather-clad tough guy Arthur Fonzarelli got more screen time, the show took off.  The same Colorado party band from American Graffiti (Flash Cadillac & The Continental Kids) played Fish & the Fins in one memorable episode performing "Youngblood".  This show spun-off Mork & Mindy which almost made this list thanks to one great season thanks to the genius of Robin Williams (but the rest of its run didn't measure up).
22.Leave It To Beaver
Perhaps this show should have been higher due to Wally's friends Lumpy Rutherford (Frank Bank) plus the ever-cool Eddie Haskell (Ken Osmond) but it just feels like a show from a different era and is hard to rate.  To this day I still love the closing scene of the show with Wally (Tony Dow) and the Beaver (Jerry Mathers) walking home to the happy song "The Toy Parade" (the jazzy version isn't as good). We saw the house set on the back-lot at Universal Studios in California and it was still thrilling to picture Wally and the Beav walking there.  Dad Ward (Hugh Beaumont) and mom June (Barbara Billingsley with her pearls) were classic 1957 to 1963 parents with roles traditionally defined.  Where the show took off was with Wally and his friends or Theodore "Beaver" Cleaver with his assortment of side-characters like Larry Mondello (Rusty Stevens), Whitey (Stanley Fafara), old Gus (Burt Mustin), teacher Miss Landers (Sue Randall) and the like.  John Candy on SCTV did a funny take-off of the Beav with Joe Flaherty as an alcoholic Ward.
23.The Iron Chef (
料理の鉄人)
Talk about your left-field cult hit, this Japanese culinary show became a surprise sensation when dubbed into English and shown here on cable starting in 1999.  The newer American version is nowhere near as profoundly goofy as the original which ran in Japan from 1993 till 1999.  Chairman Kaga (鹿賀主宰), always in flamboyant costume, intro-ed each show which featured some nationally known chef who had to choose one of several equally well-dressed Iron Chefs to see if they could out-cook him and win the acclaim of the land.  The battle took place in Kaga's own Kitchen Stadium which he supposedly constructed for such events and always had some theme food at its heart such as octopus.  The show had two commentators, Kenji Fukui and Dr. Yukio Hattori plus a reporter, Shinichiro Ohta.  Guest reporters often appeared as well to watch the two chefs battle to create foods that would be then tasted and judged at the end.  It was always bizarre to watch petite Japanese ladies eat oddities like sea anemone and comment in Godzilla-like dubbed English about the merits of the food.  Needless to say Brenna, Hilary and I loved the show.
24.Monk
Tony Shalhoub is such a fine actor that he made this show worth watching on his own.  There has been a long list of excellent tv shows about odd characters who have a predilection for solving crimes (Perception, Medium, The Mentalist), but this was my favorite.  Monk was a mentally damaged former detective who suffered from a litany of phobias that made operating in the real world a challenge.  He always had an assistant to help him (Sharona – Bitty Schram or Natalie – Traylor Howard) and worked with the confused Randy Disher (Jason Gray-Stanford) and the bemused Captain Leland Stottlemeyer (Ted Levine).  Monk ran for eight seasons starting in 2002.  The series ender held the record for a cable-tv drama at 9.4 million viewers till The Walking Dead broke that record.
25.The Red Green Show
Boy this was in tough competition for the last spot with WKRP In Cincinnati, St. Elsewhere and Hawaii 5-0 (the original with Jack Lord).  This Canadian export won out due to the silliness plus the fact that my parents and I got Red Green's autograph and posed for pictures at a hardware store (we also saw him in an hilarious one-man show that night).  Red (Steve Smith) and his dopey nephew Harold (Patrick McKenna) supposedly ran a low-rent cable tv show from Possum Lodge and featured handyman Red using his ever-useful duct tape to create new and clever things out of old discards (he once made a heated seat out of an old dryer).  The show was terribly gentle and predictable, but that was its charm in its run here on PBS every Saturday night from 1991 till 2006.  You had segments like "Adventures With Bill" (Rick Green) and "The Possum Lodge Word Game" plus odd characters like Ranger Gord (Peter Keleghan) and explosives fan Edgar Montrose (Graham Greene in a much different role than on Longmire).  Red had lots of sayings that became catch-phrases with my friends such as "keep your stick on the ice" and "if the women don't find you handsome, they should at least find you handy").  The end of the show had a meeting of the men of the Possum Lodge which always began with the Man's Prayer: "I'm a man, but I can change, if I have to, I guess."